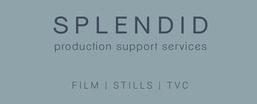 Splendid - Production Support Services
Christchurch
Get In Touch
+64 27 432 9803
Company Description
Splendid is a production support service based in Christchurch, in the South Island of New Zealand. We offer production management and coordination expertise for feature films, television productions, commercials and photographic shoots.
Between us, the production team at Splendid has more than 43 years industry experience. We take a huge amount of pride in delivering professional, friendly service, being calm and clever problem-solvers and doing our best to ensure that your South Island production is, well...... splendid!
We're also flexible and not precious, so we are happy to take on an assisting role for a few days or your full, start to finish, production management with all the trimmings, if that's what you need.
Get in touch with us for more information about shooting in Christchurch, Canterbury or anywhere in the South Island.
Product List
Production management
Production coordination
Production assistance
Art department assistance/props buying
Drivers
Chaperones
Staff Members
Josie Cox
Production Coordinator
Josephine Meachen
Production Coordinator
Sal Cameron
Production Manager
Credits
Resume Play (Production Coordinator / Executive Producer) - 2015 - D - Belmont Productions - Rick Harvie Christchurch - Ever Evolving City (Production co-ordinator) - 2014 - D - Belmont Productions - Rick Harvie Hellers TVCs (Production coordinator) - 2013 - TVC - Shuriken - Richard Bell Estee Lauder - Nutrience (Producer) - 2006 - TVC - Bannan Films - Peter Bannan Moccona (Producer) - 2006 - TVC - Bannan Films - Peter Bannan 100% Pure NZ Discovery Channel Promo - Singapore (Producer / Prodcution Coordinator) - 2005 - D Phillips - Singapore (Producer / Production Coordinator) - 2005 - ST - Bannan Films - Peter Bannan Sony Wega (Producer / Produciton Manager) - 2004 - TVC - Bannan Films - Peter Bannan Sony Handcam (Producer / Production Manager) - 2003 - TVC - Bannan Films - Peter Bannan Telstra Clear - Karen Walker (Producer) - 2003 - TVC - Bannan Films - Peter Bannan Glassons Brand Campaign (Producer) - 1997 - TVC - Bannan Films - Peter Bannan