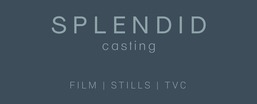 Splendid Casting
Christchurch
Get In Touch
+64 27 432 9803
Company Description
Splendid Casting is based in Christchurch, in the heart of the South Island. We offer a bespoke, independent casting service for all your talent requirements - whether you are looking for lead actors, experienced models or background extras. Being independent means we don't represent talent, so the only vested interest we have is in fully understanding your brief and finding the best cast for the role.
Christchurch is home to a diverse population of almost 400,000 people and quite frankly, they're a talented bunch. As well as supporting a professional theatre company and many, many amateur theatre groups and dance companies, Christchurch boasts several nationally recognised performing arts and circo arts training establishments. We also have a number of model and talent agencies, representing an experienced pool of fresh faces of all ages and from all walks of life.
Visit our website for more information about casting and shooting in Christchurch and the Canterbury region.
Product List
Lead talent and actor casting
Model casting
Background extras
Additional services:
2nd AD / on-set talent wrangling
Chaperoning service
Staff Members
Josie Cox
Casting Assistant
Josephine Meachen
Casting Assistant
Credits
NZ School Trustees Association Campaign - 2016 - ST - Strategy Design and Advertising MiMark Campaign - 2016 - TVC - Resonate Cricket World Cup Live - Opening Event Video - 2015 - LE - George P Johnson Christchurch Story - ICC Cricket World Cup - 2015 - V - Belmont Productions - Rick Harvie CPIT - 2014 - TVC - Shuriken - Richard Bell Numerous tvcs - 1995-2006 - TVC - Bannan Films - Peter Bannan National Bank - 1993 - TVC - Windows - Jeff Darling Speights Perfect Girl (Sth Island Casting Assist) - 1993 - TVC - Cranbrook Films - Roger Tompkins